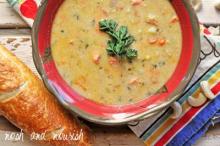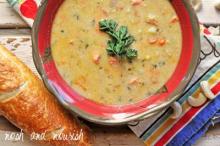 Description
The best Salmon Chowder I've ever eaten!
Ingredients
1 cup Water (used for soaking, then drained)
1 cup Water (to puree with the soaked cashews)
2 Carrots (thinly sliced)
1 tablespoon Vegan Butter (I used earth balance, or sub regular butter)
2 tablespoons Minced Garlic
1 Sweet Potato (peeled & cubed)
2 tablespoons Parsley (diced)
4 tablespoons Nutritional Yeast Flakes
Instructions
Ahead of time, soak your 2 cups of cashews in 1 cup of water for 3 hours.
After 3 hours, drain the water out of the soaked cashews and discard.
Add 1 cup of fresh water in with the soaked cashews and puree them with an immersion stick blender... then set aside.
In a large stockpot, saute thinly sliced carrots, garlic, onion, and vegan butter for approximately 5 minutes, or until onion is softened and slightly browned.
Add in diced sweet potato and saute for an additional 5 minutes. Potatoes should not get brown.
Add in all remaining ingredients except for the salmon.
Bring mixture to a boil, then reduce heat to medium to simmer for approximately 10 minutes.  Potatoes should be softened.
Add in thawed wild salmon. The boiling soup will cook it in about 8 minutes.
Once salmon is cooked through, use a fork to flake it into small pieces.
Serve with a nice french bread (optional).
Yields 6 Servings