Roasted Turkey Tacos with Cranberry Chipotle Salsa
Description
Roasted Turkey Tacos with Cranberry Chipotle Salsa -- the perfect use for all those Thanksgiving leftovers! // via Nosh and Nourish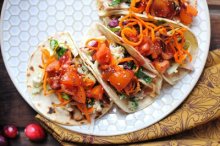 Ingredients
1 pound
roasted turkey (or sub rotisserie chicken)
1
Sweet Potato (spiralized)
1 tablespoon
extra virgin olive oil
2 tablespoons
leftover cranberry relish*
1⁄2 cup
diced grape tomatoes (I used the golden/yellow ones)
1 tablespoon
diced chipotle peppers (feel free to use less or more depending on desired level of spiciness)
2 cups
chopped kale and brussel sprouts**
1 tablespoon
pumpkin seed oil (or sub extra virgin olive oil)
1 tablespoon
Dried Cranberries
1⁄2 cup
cooked Bob's organic quinoa
2 tablespoons
Plain greek yogurt
8
small tortillas (corn or flour, whichever you prefer)
Notes
*This is the cranberry relish recipe that I use and love!
**I used the Taylor Farms kale and brussels bag mix. But you can use leftover bruseels if you have them or a combination of raw brussel sprouts, thinly sliced and kale or cabbage.
Instructions
Preheat the oven to 400 degrees. Cook spiralized sweet potato per these instructions. 
Meanwhile, in a small bowl, combine the salsa ingredients: leftover cranberry relish, tomatoes, chipotle peppers, and honey. Set aside. 
in a medium mixing bowl, combine the slaw ingredients: kale, brussel sprouts, oil, dried cranberries, quinoa, and Greek yogurt. Set aside. 
You can eat the turkey cold or hot. I like it better warm, so microwave to heat up the turkey. Or warm it up in a skillet, whichever you prefer.
Assemble your tacos: roasted turkey, a spoonful of kale/brussels slaw, a handful of crispy sweet potato noodles, and top it with a dollop of cranberry chipotle salsa!
Yields 8 Tacos