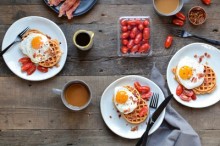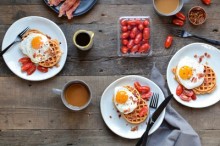 Ingredients
-----FOR THE WAFFLES-----
12 Heavenly Villagio Marzano® Tomatoes
1⁄2 tablespoon tube basil paste* (or sub 20 fresh basil leaves)
1 1⁄4 cup unsweetened almondmilk (divided, or sub regular almondmilk)
2 cups Unbleached All-Purpose Flour
1 tablespoon Baking Powder
2 tablespoons granulated monkfruit** (or sub sweetener of choice)
1 tablespoon Apple Cider Vinegar
4 Pieces of Bacon (cooked and crumbled)
1 pinch red pepper flakes
Notes
*This is the tube basil paste. It's found in the produce section of the grocery store. 
**This is the monkfruit I like to use... otherwise you could sub coconut sugar or even raw cane sugar.
*** TO MAKE FRIED EGGS: Crack eggs into large skillet over medium heat so that they don't touch each other (you might have to cook just 2 at a time). Then, cover the entire skillet with a large glass lid. This helps them cook from the top. Cook for approximately 5 minutes or until egg has reached its desired firmness. I like them to be a little drippy, but not too runny.
Instructions
Preheat oven to 425 degrees. Cut 8 of the Heavenly Villagio Marzano® tomatoes in half, longways, and then lay them in a single layer on a prepared baking sheet. Bake/roast for 10 minutes.
In a large measuring cup, combine the olive oil, basil paste, ½ cup almondmilk, and the roasted tomatoes. Blend until smooth. Then, set aside.
Dice the remaining 4 Heavenly Villagio Marzano® tomatoes. Then set aside.
In a large mixing bowl, combine the flour, baking powder, sea salt, and monkfruit. Whisk until combined.
Then, stir in the remaining ¾ cup almondmilk, apple cider vinegar, 2 eggs, roasted tomato mixture, and fresh diced tomatoes. Stir until just combined. If it seems to dry, add a splash more almondmlk.
Heat your waffle iron per owner instructions. Lightly spray cooking spray into iron and then add enough batter to the iron to make waffles. Every few waffles, be sure to re-spray your waffle iron as necessary.
Once cooked, stack up a couple of your waffles and adorn with a fried egg, bacon crumbles, and crushed red pepper flakes (optional).
If you like things sweeter, feel free to add a bit of maple syrup on top… or tomato jam!
* Please note: I used a mini waffle maker for these (I just think mini is more fun!). I used this one here, which yields waffles that are approximately 4 inches in diameter.
Yields 10 Waffles