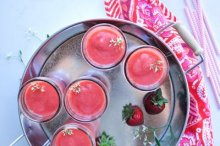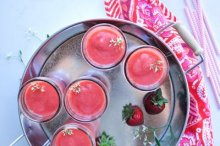 Description
Roasted Strawberry Frosé with California Strawberries
Ingredients
750 milliliters French Rosé
1 pound California strawberries (stems removed, then sliced)
1 tablespoon sunflower seed oil (or sub extra virgin olive oil)
1⁄2 tablespoon Coconut Sugar
1⁄4 cup limoncello (optional, or sub vodka)
Instructions
Pour a bottle of rosé into ice cube trays. Freeze overnight.
The next day, preheat the oven to 400 degrees. 
In a baking sheet with a tall-ish lip, lay the strawberry slices in a single layer. (The strawberries will make a lot of juice whilst roasting, so you need the lip to be able to keep all the yummy juice.) Brush the oil on top of them evenly and then sprinkle with coconut sugar. 
Bake for 15 minutes. Strawberries will be soft and juice will have collected in the pan. 
Remove from the oven and then, pour the strawberries and juice into a large glass measuring cup. Put it in the freezer to chill for 20 - 30 minutes. 
Then, in a high speed blender (I love my blendtec!), combine the limoncello, the roasted strawberries, and the frozen rosé cubes. Blend until smooth. 
Pour into glasses and serve immediately.
Yields 6 Servings