Roasted Pear and Fennel Salad w/Sesame Vinaigrette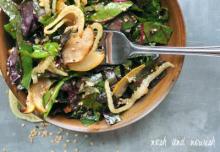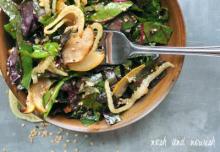 Description
Roasted Pear and Fennel Salad w/Sesame Vinaigrette // via Nosh and Nourish
Ingredients
2 tablespoons toasted sesame oil
2 teaspoons Garlic Powder
2 teaspoons Dark Amber Maple Syrup
1 tablespoon toasted sesame seeds
4 cups diced beet greens (or sub your favorite greens)
2 tablespoons Walnuts (coarsely chopped)
Instructions
Preheat oven to 425 degrees.
Thinly slice the fennel bulb and pear. Lay on a parchment paper covered cookie sheet in a single layer. Roast in oven for 15 minutes.
Combine the sauce ingredients in a small bowl (sesame oil, garlic powder, rice vinegar, soy sauce, maple syrup, and sesame seeds).
Dice the beet greens, then mix everything together in a large bowl: greens, roasted pear, roasted fennel, walnuts, and vinaigrette.
Enjoy!
Yields 2 Servings