Roasted Cherry Bourbon Cake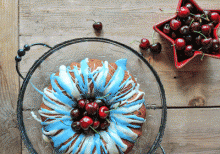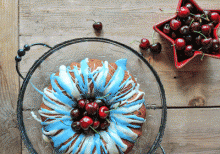 Description
Roasted Cherry Bourbon Cake
Ingredients
2 cups fresh cherries from the northwest (pitted and halved)
1 cup whole fresh cherries
1⁄2 tablespoon Coconut Sugar
3 cups organic unbleached all-purpose flour (or sub Bob's 1:1 GF Baking flour)
3 teaspoons Baking Powder
1 cup extra virgin olive oil
1 1⁄2 teaspoon Vanilla Extract
1⁄2 cup unsweetened cashewmilk
1⁄3 cup Bourbon (I like Maker's Mark)
10 ounces Ghirardelli white chocolate melting wafers (for the icing)
1 tablespoon Bourbon (for the icing)
2 tablespoons unsweetened cashewmilk (for the icing)
1⁄4 teaspoon McCormick Color from Nature, natural blue dye (for the icing, optional)
Instructions
Preheat the oven to 400 degrees.
Lay cherry slices in a single layer on a parchment lined baking sheet (make sure all pits are removed).
Brush the olive oil on top of the cherries and then sprinkle with the 1/2 tbsp of coconut sugar.
Bake/roast for 15 minutes, then remove from heat.
Meanwhile, get out 3 mixing bowls..
In the largest mixing bowl, combine the dry ingredients: flour, baking powder, and sea salt. Stir and then set aside.
In a smaller mixing bowl, combine the olive oil, vanilla, cashewmilk, and bourbon. Stir and then set aside.
In a third bowl, combine the eggs and sugars. Using a hand mixer, mix on medium-high for 2 - 3 minutes.
Then, pour the egg mixture into the olive oil mixture. Stir. Then, pour the wet mixture into the dry mixture and stir until just combined. Do not overstir.
Gently fold in the chopped roasted cherries.
Pour the batter into a greased bundt pan, then bake for 45 minutes.
Once the cake is finished, let it cool on the counter for 20 minutes. Then, flip it over onto a parchment lined cake plate.
In a small saucepan over low heat, start to melt the melting chips. Then stir in the additional bourbon and cashewmilk. Stir continually until melted. Then use a spoon to drizzle it over the cake. Then, fill the center with fresh cherries.
Yields 12 Servings