Roasted Cauliflower and Potato Soup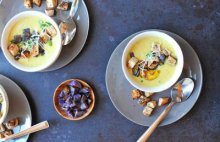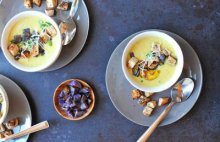 Description
cauliflower and potato soup | easy lunchbox ideas | horizon organic recipes
Ingredients
1 small head of cauliflower
1 1⁄2 pound small medley potatoes* (a mix of red, yukon gold, and purple)
1⁄2 tablespoon everything but the bagel spice (found at Trader Joe's)
2 cups Horizon Organic Milk (I like the 2%)
2 cups organic chicken stock
1 teaspoon everything but the bagel spice
1 cup Horizon Organic shredded white cheddar cheese
2 everything bagels (cut into cubes)
1 tablespoon Horizon Organic butter
2 tablespoons diced green onions
Notes
* the medley I buy has 4 purple potatoes, 4 yukon gold (yellow), and 4 red. 
Instructions
Preheat the oven to 425 degrees. 
Line a large baking sheet with parchment paper. 
Slice the potatoes into wedges and lay them in a single layer by color (separating the purple ones). 
Break the cauliflower into small pieces with your hand, or cut with a knife. Also lay out in a single layer. 
Brush on the olive oil, then sprinkle everything-but-the-bagel spice on both the potatoes and cauliflower. Sprinkle the turmeric just on the cauliflower.  
Bake for 25 - 30 minutes until potatoes are golden brown on the edges and the cauiflower is softened. 
Meanwhile, on the stovetop in a medium pan over medium heat, saute the everything bagel cubes in butter for approximately 8 minutes, stirring frequently. Bagel pieces should get browned and crispy, but not burned. Set aside. 
Once the veggies are done roasting, remove them from the oven. Keep the purple potatoes on the baking sheet, but transfer the yellow and red ones into a high speed blender. Also add the cauliflower and milk and chicken stock. 
Using the soup functionality on your blender (or high for about 45 - 60 sec), blend until smooth. 
Pour soup into a large stockpot over medium heat. 
Stir in sea salt and the additional everything spice, plus the cheese. Stir until melted. 
Serve soup hot with chopped purple potatoes, the toasted bagel cubes, and a sprinkle of green onions (optional). 
Yields 4 Servings