Roasted Carrot and Black Bean Tacos with Apple Slaw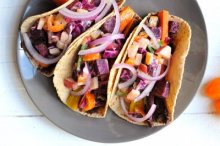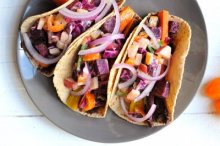 Description
Roasted Carrot Tacos with Apple Slaw
Ingredients
15 ounces can of refried black beans
5 large carrots (sliced into 3" pieces, rainbow or regular will do!)
1⁄2 a purple sweet potato (diced, or sub regular orange)
1 tablespoon Olive Oil (for roasting)
1 teaspoon coarse sea salt (for roasting)
1⁄2 cup diced apple (I love pink lady or honeycrisp for these tacos!)
1⁄2 cup diced red cabbage
2 tablespoons Plain greek yogurt
8 thin slices of fresh jalepeno (optional, for kick)
3 golden cherry tomatoes (diced , or sub regular red)
Instructions
Preheat oven to 425 degrees.
On a parchment lined (or sprayed) cookie sheet, lay out the carrots and sweet potato in a single layer. Brush on olive oil, then sprinkle with sea salt. 
Roast (bake) for 20 minutes. Then remove from oven. 
Meanwhile, combine the apple slaw ingredients in a medium bowl: diced apple, red cabbage, Greek yogurt, jalepeno, cherry tomatoes, lime juice, and cumin.
Heat up the refried black beans -- either in the microwave or on the stovetop. Either works!
Assemble your tacos: spread a generous dollop of refried black beans into the tortilla. Top with a couple pieces of roasted carrot, a few sweet potato chunks, and a spoonful of the apple slaw. 
Enjoy!
Yields 8 Tacos