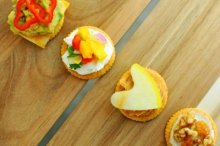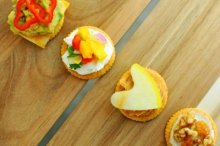 Description
Stack it up with Ritz // simple snack options your family will love!
Ingredients
1 package Ritz Honey crackers
1 package plain cream cheese
1 package Safeway Mango Salsa
Notes
Other combinations include:
RITZ STACKED WITH CINNAMON CREAM CHEESE, WALNUTS, AND GOLDEN RAISINS
RITZ STACKED WITH CHEDDAR JACK CHEESE, SAFEWAY GUACAMOLE, AND SLICED SWEET PEPPER
RITZ STACKED WITH PEANUT BUTTER AND A THIN APPLE SLICE
RITZ STACKED WITH QUESO FRESCA, CHIPOTLE PEPPERS, AND CILANTRO 
Instructions
Spread a thin layer of cream cheese on top of a Ritz cracker. 
Add a spoonful of mango salsa on top. 
Repeat. 
Devour!
Yields 24 Servings