Rainbow Quinoa Fruit Salad with Citrus Vinaigrette
Description
strawberry fruit salad | fruit salad with quinoa | rainbow fruit salad | spring strawberry recipes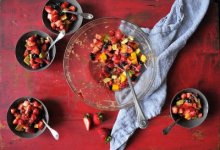 Ingredients
4 cups
diced organic California strawberries
3⁄4 cups
fresh blueberries
1
Avocado (pitted, peeled, then diced)
2 tablespoons
diced red onion (optional)
2 tablespoons
Orange Juice (for the dressing)
2 tablespoons
raw agave nectar (for the dressing --- or sub honey)
1 tablespoon
avocado oil (for the dressing)
1⁄2 teaspoon
rice vinegar (for the dressing)
juice from 1 lime (for the dressing)
10
Chile Lime Mango Harvest Snaps* - Black Bean Crisps (to garnish)
Notes
*Here's a link to the Harvest Snaps, so you can see the packaging and such. I buy them at Sprouts.
Instructions
Combine the fruit, quinoa, avocado, and red onion in a medium mixing bowl. Set aside.
In a large measuring cup, combine the dressing ingredients. Use a whisk to thoroughly mix it up. 
When ready to eat, pour the dressing over the fruit salad. Then, serve into bowls. 
Top with crushed Chile Lime Mango Harvest Snap Crisps (optional). 
Yields 8 Servings