Rainbow Mason Jar Salmon Salad
Description
mason jar salads | salmon salad | tuna alternative | wild king salmon | easy work lunch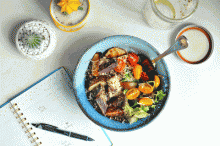 Ingredients
1⁄2 cup
Olive Oil (for the dressing)
2 tablespoons
golden balsamic vinegar (for the dressing)
1 teaspoon
Coconut Sugar (for the dressing)
juice from 1/2 a lime (for the dressing)
1 teaspoon
Montreal Steak Seasoning (for the dressing)
1 pinch
Sea Salt (for the dressing)
9
small medley potatoes (some are purple, some are yukon gold, some are red)
16
heirloom grape tomatoes (sliced into fourths)
1 cup
organic cheddar cheese
2 cans
Alaska Gold Canned Wild Ivory King Salmon (~6oz each (12oz total))
2 tablespoons
avocado mayo (or sub your favorite mayo or greek yogurt)
2
peppadew peppers (diced)
5 ounces
greens (I love the spinach / baby butter lettuce mix)
Notes
*Requires four 20oz wide mouth mason jars, or just make in a large salad bowl.
Instructions
Preheat the oven to 450 degrees. 
Slice the potatoes into fourths, long-wise... then place them in a large mixing bowl. 
Add 1 tsp olive oil and 1 tsp lemon juice, then stir to coat the potatoes evenly. 
On a foil lined cookie sheet, lay the potatoes in a single layer. Bake for 20 minutes... until golden brown and crispy on the outside. 
Meanwhile, combine all of the dressing ingredients in a small jar (olive oil, balsamic, sugar, lime juice, Montreal steak seasoning, and sea salt). Use a whisk to mix it. 
In a small bowl, flake the canned salmon with a fork, then stir in the avocado mayo and diced peppadews. Set aside. 
To assemble jars: First comes the dresssing. Divide it evenly between the four jars (approximately 2 tbsp per mason jar). Then top with a handful of roasted potatoes. Then add 1/4 cup quinoa to each jar. Then, add about 1/4 cup of the salmon mixture, flattening it in the jar with the backside of a spoon. Then add 1/4 cup cheese to each jar. Then add 1/4 of the sliced tomatoes. Then, add a handful of greens all the way to the top of each jar. You can press them down a bit and add a little more. You want the jars to be completely full so that there's no movement. Then, top with the mason jar lids. 
Keep refrigerated, and bring to work with you in an insulated bag, being mindful to keep the jars upright during travel. 
When you're ready to eat, pour into a large salad bowl. Stir, then devour!
PS. (They will keep in the fridge for 3 -4 days). 
Yields 4 Jars