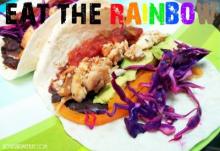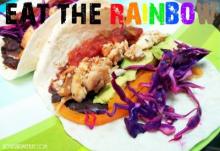 Description
Rainbow Fish Tacos || No Sugar Sweet Life
Ingredients
6 Fish Filets (I used Tilapia)
1⁄2 package Fish Taco Seasonings (I used the Simply Organic brand)
1 cup Purple Cabbage (shredded)
1 cup Refried Black Beans
1 Orange Bell Pepper (sliced and roasted)
1⁄2 cup Sweet Kernel Corn
1⁄2 cup Plain greek yogurt (I used Chobani)
12 Small Flour Tortillas (or sub corn tortillas)
Instructions
Thaw fish, if frozen, then marinate for an hour or two in: 1 Tbsp Olive oil, 1 lime's juice, 1 tsp garlic, and 1 tsp paprika.
Prep all toppings: dice tomatoes, shred cabbage, roast bell peppers (either in oven or microwave), create white sauce by mixing 1/2 cup olive oil mayo plus 1/2 cup plain greek yogurt.
Pan sear the fish, approximately 6 minutes on each side. Partway through cooking, sprinkle on the Simply Organic fish taco seasoning. 
Warm up refried black beans and corn.
Once fish is thoroughly cooked (white throughout, not clear/translucent), assemble your tacos!
Make sure to grab a little bit of each color.
Yields 4 Servings