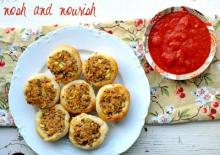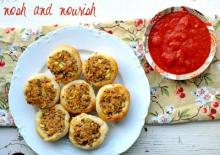 Description
Nosh and Nourish: Quinoa Pizza Bites
Ingredients
2 packages Large Pillsbury Crescent Rolls
2 cups Cooked Quinoa (I used tri-color)
1 cup Shredded Italian Cheese (I used an Italian cheese blend, but you could just use mozzarella)
2 teaspoons Minced Garlic
2 tablespoons Coconut Oil
3⁄4 cups Flour (I used white whole wheat flour)
Notes
*Pepperoni lovers could add 1/4 cup diced pepperoni to the mix before baking. (optional)
Instructions
Preheat oven to 350 degrees.
Spray 2 mini-muffin tins with non-stick spray.
Open up your crescent rolls, unrolling carefully. Press each set of 2 triangles together into one larger rectangle. Use a small cup/glass to cut circles of dough. Press the dough circles into each muffin cup.
Combine all remaining ingredients, except for dipping sauce. 
Fill each dough cup with a spoonful of the quinoa mixture.
Bake for 20 minutes, or until lightly browned.
Serve with pizza sauce for dipping!
Yields 24 Mini-Bites