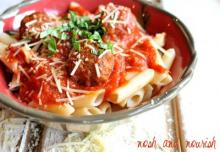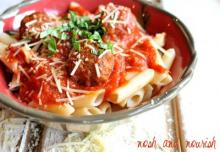 Ingredients
1 pound Grass-fed Lean Ground Beef
1 tablespoon Tube Basil (sold in the produce section)
1⁄2 cup Crushed Glutino Gluten-Free Bagel Chips (or sub regular breadcrumbs)
1⁄2 cup Cooked Quinoa (I used red quinoa)
1 tablespoon Petite Sirah (optional)
2 tablespoons Olive Oil (for the skillet)
Instructions
Combine all ingredients, except for the olive oil.
Remove rings, then hand mix / squish until thoroughly combined.
Form into 24 small meatballs.
Add the olive oil to a large skillet pan over medium-high heat.
Cook 8 meatballs at a time, placing them in a circle along the outer 2" of the pan.
Let each side of the meatball cook for about 2 min, then turn it over, getting all sides evenly browned.  (Total cook time is about 8 minutes for each set of 8).
Once evenly browned, remove from skillet and let cool on a large plate.
You can either freeze them at this point, but them in the fridge for later, or put them directly into a pot of spaghetti sauce.
Serve with gluten-free penne and organic spaghetti sauce like I did, or choose your favorite pasta and sauce combination!
Yields 24 Meatballs