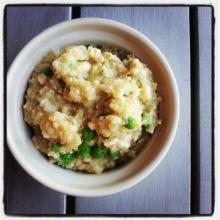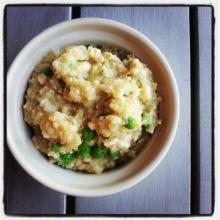 Description
Quinoa "Mac" & Cheese with nourishing add-ins like white beans, peas, and basil. // @noshandnourish
Ingredients
1⁄4 cup Apple Cider Vinegar
15 ounces White Great Northern Beans (rinsed & drained)
1 cup Shredded Cheese (I used 1/2 parmesan, 1/2 mozzarella)
1⁄3 cup Almond Milk (could sub regular cow milk)
2 tablespoons Basil Paste (found in the produce section)
Instructions
Cook your quinoa -- subbing 1/4 cup apple cider vinegar for some of the water required. My quinoa stated 1 cup quinoa to 2 cups water, so I used 1/4 cup ACV and 1 3/4 cup water. Bring to a boil, then cover for 8 minutes.
Remove from heat, uncover, and allow to "fluff"
In a separate pan, combine white beans (rinsed & mashed), cheese, butter, milk, and basil.
Melt over medium heat, stirring frequently.
Once melted, add cooked quinoa in and peas.
Serve as a side dish or on its own!
Yields 6 Servings