Purple Power Bowls with Yogurt Curry Dressing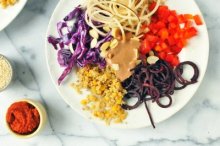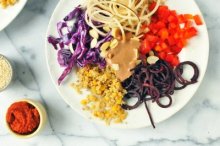 Description
Purple Power Bowls with Yogurt Curry Dressing // via Nosh and Nourish
Ingredients
2 tablespoons Silk Dairy-Free Strawberry Yogurt Alternative
1 tablespoon rice vinegar
1 tablespoon red curry paste
1 tablespoon sesame seeds
1 Sweet Potato (spiralized)
1 red anjou pear (spiralized)
1⁄2 cup cooked quinoa/lentil blend*
1⁄2 cup diced red cabbage
1 Red Bell Pepper (diced)
Notes
*Ahead of time, I cook quinoa and lentils together in my rice cooker! What's worked best for me is: Combine 2 cups dry quinoa, 3/4 cup dry red lentils, 2 cups chicken or vegetable stock, and 2 cups water in a rice cooker. Press "Cook" and about 20 minutes later, you have perfectly cooked quinoa and lentils!
Instructions
Combine all sauce ingredients in a small bowl: yogurt, olive oil, rice vinegar, curry paste, and sesame seeds. Stir until combined, then set aside.
Over medium-high heat, saute the sweet potato noodles with 1 tbsp of olive oil for approximately 8 minutes, or until noodles are softened. Stir frequently.
Assemble your bowls, 1/2 into each: cooked sweet potato noodles, quinoa/lentil blend, pear noodles, red cabbage, and bell pepper. Top with almond slices and yogurt curry dressing. 
Enjoy!
Yields 2 Bowls