Purple Nourish Bowl with Coconut Rice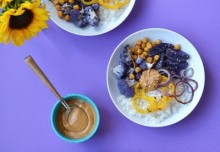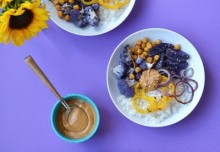 Description
Purple Nourish Bowl with Coconut Rice
Ingredients
2 cups So Delicious Dairy Free Coconutmilk
4 tablespoons Peanut Butter (or nut butter of choice)
2 teaspoons Apple Cider Vinegar
2 tablespoons So Delicious Dairy Free Coconutmilk
---FOR THE NOURISH BOWL---
1⁄2 a head of purple caulflower (broken into pieces)
1 yellow bell pepper (sliced)
1⁄2 a red onion (sliced into thin rounds)
7 ounces Chickpeas (~1/2 a 15oz can, rinsed and drained)
6 small purple medley potatoes (sliced into fourths)
1 teaspoon everything-but-the-bagel spice
Notes
Makes 2-3 bowls, you'll have extra rice for later.
Instructions
Combine rice, water, and coconutmilk into a rice cooker and cook on high for approximately 20 min.
In a large measuring cup combine all sauce ingredients. Use an immersion hand blender to puree until smooth. Set aside.
Preheat the oven to 425 degrees. Slice the potatoes into fourths (long-wise). On a foil lined baking sheet, lay out in a single layer: purple cauliflower, yellow bell pepper, red onion, chickpeas and the potatoes. Drizzle with olive oil and sprinkle on everything but the bagel spice. Bake for 25 minutes until softened.
Assemble everything and enjoy!
Yields 3 Servings