Description
Pumpkin Pie Cider Fizz -- a super simple Thanksgiving cocktail! // via Nosh and Nourish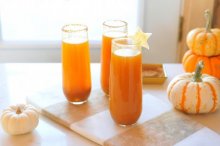 Ingredients
2 tablespoons
Sprouts' Maple Pumpkin Butter
1 tablespoon
Silk Unsweetened Cashewmilk
16 9⁄10 ounces
bottle of Sprouts' Sparkling Pumpkin Spiced Apple Cider (1 bottle makes 3 of these cocktails)
Notes
1) If you want to do the sugared rim, combine 1 tbsp coconut sugar and 1 tsp pumpkin pie spice in a small dish. Rub an apple slice along the rim of the glass and then dip it upside down into the sugar mixture.
2) if you want to make it a mocktail, just leave out the vodka! It's still delish.
Instructions
Combine the pumpkin butter and cashewmilk in an 8oz glass. Stir until thoroughly mixed. 
Add in vodka. 
Top with Sparkling Pumpkin Spiced Apple Cider.
Stir with a tall spoon.
Serve immediately.
Yields 1 Serving