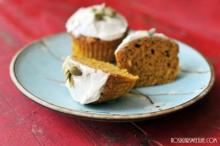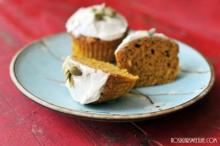 Description
Pumpkin Muffins (or bread): No butter, no oil, low-sugar, and 100% amazing!
Ingredients
1 1⁄2 cup Whole Wheat Pastry Flour
3 tablespoons Whole Wheat Pastry Flour
1 1⁄2 teaspoon Baking Powder
1⁄2 teaspoon Ground Ginger
1⁄4 teaspoon Ground Cloves
1⁄2 cup Vanilla Greek Yogurt
16 ounces Cream Cheese 1/3 Fat (for frosting)
1⁄3 cup Date Puree (for frosting)
Instructions
Preheat oven to 350 degrees.
Mix together all dry ingredients in one bowl.
Smash banana and mix with other wet ingredients in a separate bowl.
Mix dry and wet ingredients together.
Spray a muffin tin and pour batter into each cup.
Bake for 25 - 27 minutes.
Make frosting while muffins cook: mix up the cream cheese to make it fluffy with a hand mixer. Slowly add in the date puree, while mixing.
Put frosting back in the fridge to firm up.
After muffins have baked, allow them to cool before adding the frosting to the tops.
ENJOY!!
Yields 12 Muffins