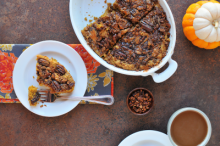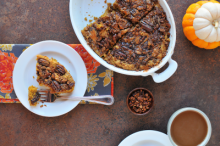 Description
Pumpkin Coffee Cake // gf, df, v
Ingredients
3⁄4 cups gluten-free flour (I use Bob's 1:1 GF Baking flour)
1 scoop of vegan vanilla protein powder* (optional)
1⁄4 teaspoon Ground Cloves
1⁄2 cup canned organic pumpkin
1⁄3 cup Silk Caramel Almondmilk Creamer
2 Eggs (or sub flax eggs to keep vegan)
1⁄2 cup honey roasted pecans (coarsely chopped -- for the topping)
2 tablespoons Vegan Butter (softened, for the topping)
1 teaspoon Cinnamon (for the topping)
Instructions
Preheat the oven to 350 degrees.
In a large mixing bowl, combine the dry ingredients: flour through cloves. Set aside.
In a smaller bowl, combine the wet ingredients: pumpkin through coconut sugar.
Then, stir in the wet ingredients into the large mixing bowl with dry ingredients. Stir until just combined. 
Use non-stick spray to coat an 8x8 glass dish, or small casserole dish. Spoon in batter. 
In a small bowl, combine the butter, chopped pecans, and additional cinnamon. Spread it over the top of the batter. 
Bake for 30 minutes, or until a fork comes out clean.
Yields 6 Servings