Protein Fudgesicles w/Dark Chocolate Coconut Granola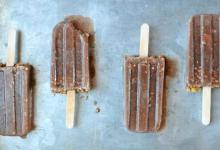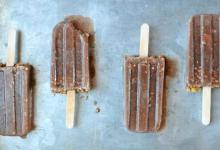 Description
Protein Fudgesicles w/Dark Chocolate Coconut Granola // via Nosh and Nourish
Ingredients
1 can Lite Coconut Milk (approximately 13.66 ounces)
2 cups Silk Dark Chocolate Almondmilk
2 tablespoons Cocoa Powder
1⁄4 cup Dark Amber Maple Syrup (optional)
2 tablespoons Shredded Coconut (unsweetened)
5 tablespoons Cascadian Farm Protein Granola (dark chocolate coconut flavor)
Instructions
Combine all ingredients except the granola in a medium mixing bowl.
Stir thoroughly.
Pour equal amounts in a popsicle mold -- mine makes 10 popsicles. Leave about 1/2 inch at the top so there's room for the granola!
Top each fudgesicle with 1/2 tbsp of the protein granola. Gently press it down into the popsicle mold.
Cover and put in the freezer for at least 3 hours.
Enjoy!!
Yields 10 Fudgesicles