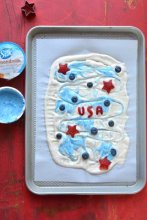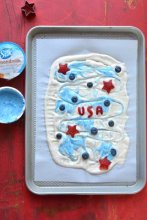 Ingredients
16 ounces Silk's Vanilla Almondmilk Yogurt Alternative (~ three, 5.3 ounce containers)
1⁄2 teaspoon McCormick Color from Nature, natural blue dye
1 teaspoon silver sugar (edible glitter, optional)
Instructions
Line a small cookie sheet or glass pan with parchment paper. 
Spoon out two 5.3 ounch yogurt containers into a thin layer -- keeping the 3rd yogurt set aside. (I like to keep it pretty thin so it's easier to eat, approximately 1/2 cm high).
Stir in the all-natural blue dye to the third yogurt container. 
Put a few dollops of the blue yogurt sporadically onto the thin layer of yogurt. Then use a knife to go back and forth and swirl it around. 
Adorn the yogurt with blueberries and strawberries (use cut outs for the strawberries if you so choose -- we used a star and then U S A.)
Freeze for at least 4 hours. Then cut into slices. Store leftovers in the freezer. 
Yields 8 Servings