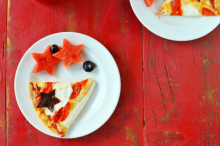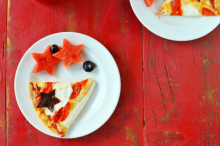 Description
Patriotic Pizza --- perfect for Memorial Day or the 4th of July!
Ingredients
2 Udi's Gluten-free Pizza Crusts
1⁄2 cup Pizza Sauce (I like Muir Glen or Classico)
1 cup shredded mozzarella cheese
1⁄2 cup Shredded Parmesan Cheese
6 Grape Tomatoes (sliced)
3 peppadew peppers (sliced)
4 ounces fresh mozzarella cheese (sliced and cut into thin strips)
1⁄2 a purple sweet potato (sliced thinly with a mandolin and then cut into star shapes)
Instructions
Preheat oven to 375 degrees.
The pizza crusts come frozen, so I let mine sit out at room temperature for about 10 minutes to thaw, and then made the pizza. 
To make the pizza, place the two crusts on a large baking sheet. Then, spoon on the pizza sauce. 
Top with a thin layer of shredded mozzarella cheese.
To make it look like a flag, arrange the small purple sweet potato stars in the top left corner. Then, create stripes by laying out the tomatoes and peppadews in a line. Then, fresh mozzerella in a line. Repeat until pizza is covered. 
Bake for 10 - 15 minutes, until cheese is melted and lightly browned. 
Cut into slices and serve with watermelon stars and blueberries (optional).
Yields 4 Servings