Pan Fried Singapore Rice Noodles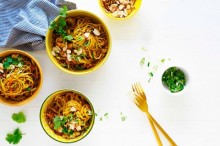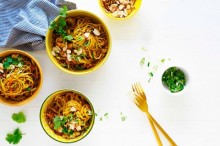 Description
Pan Fried Singapore Rice Noodles -- a hearty, fast veggie-loaded bowl of curry-spiced pan-fried noodles reminiscent of a Curried Pad Thai. Totally satisfying and even better than take-out.
Ingredients
1⁄2 package (4oz) pad thai noodles*
1⁄3 head of cabbage (thinly sliced )
2 Carrots (we used one orange and one yellow, julienned)
1 yellow bell pepper (seeded and thinly sliced)
2 green onions (white and green parts, thinly sliced plus extra for serving)
2 tablespoons Coconut Sugar
1 tablespoon sweet curry powder
1⁄3 cup toasted slivered almonds (for serving)
1⁄3 cup cilantro (for serving)
Instructions
Soak noodles in hot water according to package instructions, pulling them out when they're just al dente. Drain, rinse and set aside. In a small bowl, scramble eggs.
While noodles are soaking, preheat large, deep-sided skillet or Dutch oven over medium flame.
When pan is hot, add 1 T light cooking oil, all veggies and salt. Increase heat to medium high and sauté, tossing occasionally, for 7-10 mins, or until veggies are wilted and cabbage is beginning to brown in places.
Push veggies to the edges of the pan and pour eggs into the center. Cook, scrambling lightly, until eggs are barely set. Mix eggs into veggies. Add curry powder, coconut sugar and turmeric, turn off heat, and toss thoroughly. Add al dente noodles and toss to incorporate noodles into veggies.
Serve noodles in bowls topped with toasted almonds or peanuts and cilantro and scallions, as desired. Enjoy!
Yields 3 Servings