Paleo Pad Thai with Carrot and Sweet Potato Noodles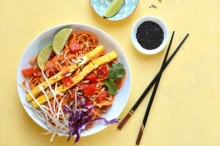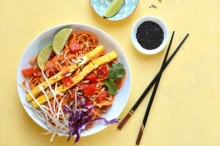 Description
Paleo Pad Thai with Carrot and Sweet Potato Noodles // via Nosh and Nourish #paleo #vegetarian
Ingredients
2 tablespoons toasted sesame oil (divided)
1⁄2 cup sunflower butter (or sub creamy almond butter)
1 tablespoon coconut aminos (or sub soy sauce if you aren't avoiding soy)
1⁄3 cup coconut milk (for the sauce)
1 Large Sweet Potato (spiralized, or julienned)
2 large carrots (spiralized, or juilienned)
1 Bell Pepper (stem and seeds removed, then diced)
2 tablespoons coconut milk
1⁄2 cup sprouted sunflower seeds
1 tablespoon black sesame seeds
4 lime wedges (for serving)
Instructions
Combine 1 tbsp of sesame oil with the other sauce ingredients (sunflower butter through coconut milk) in a large measuring cup. Use an immersion stick blender to puree the sauce until smooth. Set aside.
Preheat oven to 350 degrees.
Combine eggs and 2 tbsp coconut milk in a bowl and whisk until combined. Coat a 9x9 square baking pan with room-temperature (non-melted) coconut oil. 
Pour egg mixture into pan. Bake for 12 minutes until cooked through. 
Remove from oven and cut into thin strips. Set aside.
Spiralize (or julienne) the carrots and sweet potato.
In a large skillet over  medium-high heat, saute red bell pepper and red onion with a bit of sesame oil, until softened.
Then, add in 1 tbsp of sesame oil and the spiralized noodles. Saute for approximately 12 minutes (stirring frequently), until noodles are softened but not mushy. Stir in the pad thai sauce that you previously made and set aside making sure to coat all the noodles evenly.
Assemble your bowls: noodles topped with egg strips, sunflower seeds, red cabbage, sprouts, sesame seeds and cilantro. 
Enjoy!
Yields 4 Servings