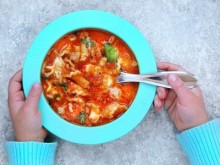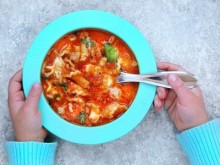 Ingredients
1 cup chopped yellow onion
1 tablespoon Minced Garlic
1 pound Ground Turkey (or sub ground beef)
30 ounces crushed tomatoes (~ two 15oz cans)
6 ounces canned tomato paste
1⁄2 teaspoon Italian seasoning
3 tablespoons freshly chopped basil (plus additional leaves for garnish, if desired)
3 cups campanelle noodles (+ more or less dependent on personal preference)
1 cup crumbled goat cheese (or sub mozzarella)
1⁄4 teaspoon fresh thyme leaves
1⁄2 cup fresh grated Parmesan cheese
salt and pepper (to taste)
Instructions
Heat olive oil in a large pot over medium heat.
Add onion and garlic to pot and cook for a couple minutes until fragrant.
Then, add in ground turkey and cook approximately 5 min. or until turkey is browned.
Slowly add in chicken stock, crushed tomatoes and tomato paste. Stir until well-combined.
Next, add in oregano, Italian seasoning and approximately half of your basil. Stir and bring to a boil.
Add in your pasta. We usually do more noodles than less, but the amount you add in is entirely up to you, as is your noodle choice. We like campanelle for this dish because of the lasagna like edges and thick texture, but feel free to sub noodles of choice.
Cook approximately 7- 9 minutes, until noodles are tender.
While pasta cooks, make goat cheese balls. Stir goat cheese with remaining chopped basil and a pinch of salt and pepper. Roll into small balls, then set aside.
Sprinkle thyme into pot and give it a few stirs. Then, sprinkle in parmesan cheese and you are ready to go!
To serve, ladle soup/pasta into bowls, top with additional basil if desired and goat cheese balls, as shown.
Enjoy!
Yields 6 Servings