Oatmeal Bowl with Dragonfruit and Apple Compote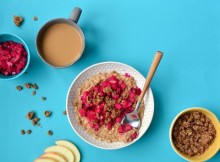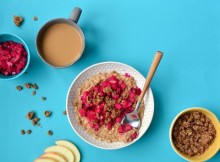 Description
Oatmeal Bowl with Dragonfruit and Apple Compote
Ingredients
1 honeycrisp apple (diced)
2 ounces dragonfruit puree
2 tablespoons Silk Vanilla Soy Creamer
1 cup Silk Oat Yeah Oatmilk
1 tablespoon Silk Vanilla Soy Creamer
1⁄8 cup Cooked Quinoa (optional)
dragonfruit compote (see above)
Instructions
Combine the compote ingredients in a small saucepan. Stir over medium heat until apples are softened and sauce thickened. Set aside.
Combine the oatmilk and creamer in a large saucepan. Bring to a boil, then stir in the oats and cinnamon and flax. Stir, then reduce heat to low and let simmer for approximately 5 minutes.
Serve hot topped with compote and granola.
Yields 2 Servings