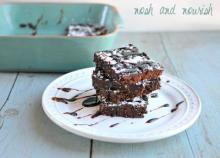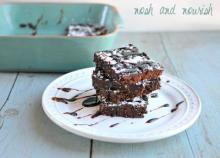 Description
No Bake Samoa Bars // via Nosh and Nourish
Ingredients
1 1⁄2 cup Pitted Dates (approximately 16)
3 tablespoons Coconut Oil
3 tablespoons Coconut Sugar
1⁄2 cup Coconut Sugar (for the caramel sauce)
3 tablespoons Earth Balance Vegan Butter (for the caramel sauce)
1⁄4 cup Chocolate Almond Milk (for the caramel sauce)
1⁄4 teaspoon Sea Salt (for the caramel sauce)
1⁄4 cup Powder Sugar (optional)
Instructions
Combine the first 7 ingredients into a food processor (dates through honey). 
Blend for 3 - 4 minutes until it's thoroughly and has a mixed even texture. 
Press the mixture into the bottom of a greased 9 x 9 pan. 
Refrigerate for at least 1 hour. 
in the meantime, in a small saucepan over medium low heat, melt the coconut sugar and butter, stirring continually. 
Stir in almond milk and sea salt, until caramel sauce thickens. 
Drizzle the caramel sauce over the bars. 
Sprinkle with powdered sugar (optional).
Yields 9 Squares