Mushroom Veggie Dumplings (Potstickers)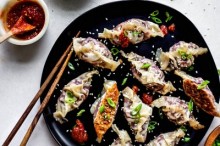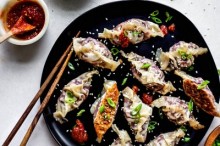 Description
Mushroom Veggie Dumplings (Potstickers)
Ingredients
2 cups finely chopped Shiitake Mushrooms (stems removed)
1 cup finely chopped purple cabbage
1⁄2 cup finely chopped onion
1 tablespoon grated ginger
3 cloves Garlic (finely minced)
2 tablespoons low sodium soy sauce (or sub coconut aminos)
green onions (for topping)
1⁄4 cup low sodium soy sauce (or sub coconut aminos)
1 teaspoon rice wine vinegar
1⁄2 teaspoon sesame seeds
Notes
Tip: Use a food processor to chop all of your veggies to make it even faster.
Instructions
Heat a wok over medium heat and add sesame oil.
Add ginger and garlic until fragrant, about 1 minute and then add in cabbage, carrots, and mushrooms and sauté for 3-5 minutes until they just start to become tender.
Add in soy sauce and continue to cook for another couple of minutes.
Add in corn starch and stir to coat vegetables for another couple of minutes. Turn off heat and let veggies cool slightly.
Meanwhile, get the wonton wrappers out and keep under a damp towel while you work. This works best if you set up an assembly line of ingredients so it moves faster.
Lay out about 4-6 wrappers at a time on a clean surface, keeping the remaining wrappers covered, and place 1 teaspoon of the mushroom veggie mixture in the middle of each wonton wrapper. You don't want to overstuff here or your dumplings won't stay together when you cook them.
Take your finger and dip into water and then go around the edges of each wonton wrapper one at a time.
Take the wonton wrapper and press one corner to the opposite side making a triangle.
Squeeze edges, kind of folding in on both sides to create a dumpling shape and to seal edges.
Once you make the dumplings, place onto a baking sheet and cover with a damp towel while you continue to make the rest of the dumplings.
If freezing the dumplings, you would freeze them at this stage before cooking.
To cook the dumplings heat a large nonstick skillet over medium heat and add 1 Tbsp. of Avocado Oil or another flavorless oil. You could use a cast iron here, but the dumplings are delicate and I find a nonstick pan works best.
Add dumplings to the pan and let sear on the bottom for 2-3 minutes.
Pour about 1/4 water in the pan and place the lid on top to steam for another 3-4 minutes until water is basically evaporated and dumplings are steamed.
Remove from the pan and repeat with the rest of the dumplings adding a little more oil if needed and water each time.
Sprinkle with green onions and serve immediately with dipping sauce and chili sauce if desired.
Yields 24 Dumplings