Meyer Lemon Energy Seed Balls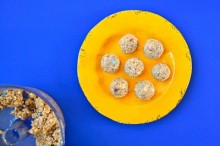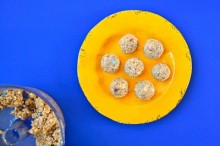 Description
Meyer Lemon Energy Seed Balls
Ingredients
1 9⁄10 ounce jar of Sprouts' sesame seeds (~1/2 cup)
1⁄2 cup roasted unsalted sunflower seeds
1⁄2 cup roasted unsalted cashews
8 Sprouts' blue chocolate covered peanuts (optional)
juice of 1/2 a Meyer lemon
2 tablespoons Maple Syrup
Instructions
Combine all ingredients in a food processor. Blend on high for 2 – 3 minutes until all the large pieces are broken down and a sort of dough forms.
Roll into 1 inch balls. Makes ~ 12.
Refrigerate for at least 30 minutes before serving. Store in the fridge or freezer.
Yields 12 Balls