Mason Jar Cucumber Noodle Salad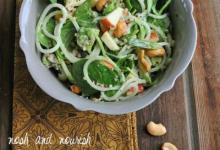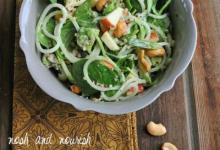 Description
Mason Jar Cucumber Noodle Salad with Creamy Lemon Poppyseed Dressing // via Nosh and Nourish
Ingredients
1⁄2 cup Olive Oil (for the dressing)
1⁄3 cup Silk unsweetened vanilla almondmilk (for the dressing)
2 teaspoons Lemon juice (for the dressing)
1⁄2 teaspoon Lemon Zest (for the dressing)
1⁄4 teaspoon Garlic Powder (for the dressing)
1⁄4 teaspoon Sea Salt (for the dressing)
1 tablespoon Dark Amber Maple Syrup (for the dressing)
1 teaspoon poppy seeds (for the dressing)
1⁄2 a Cucumber (peeled and spiralized (or julienned))
1⁄2 an avocado (pitted and skin removed)
1⁄3 cup dry roasted cashews
1⁄2 an organic apple (diced)
2 cups Spinach (or your favorite greens)
Instructions
Combine the dressing ingredients (olive oil through poppy seeds) in a large measuring cup. Use an immersion stick blender to blend the mixture for approximately 1 - 2 minutes until it is thoroughly combined and thickens. 
This makes more dressing than you'll need for the one mason jar salad, so pour 1/4 cup of it into the bottom of the mason jar and then set aside the rest in the fridge for another time. 
Assemble your mason jar salad: dressing in the bottom, then spiralized cucumber, quinoa, avocado, cashews, apples, and finally top it with the spinach. Make sure the jar is packed tightly. Put on your lid. 
When you're ready to eat, empty the contents of the mason jar into a large salad bowl. Stir, then devour.
Yields 1 Servings