Maple Bourbon Bacon Dark Chocolate Bark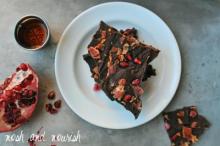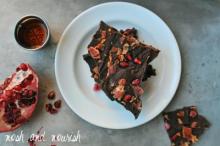 Description
Maple Bourbon Bacon Dark Chocolate Bark // via Nosh and Nourish
Ingredients
4 slices center-cut, nitrate-free bacon
1 1⁄2 ounce Tincup Bourbon (approximately one shot)
1 tablespoon Dark Amber Maple Syrup
3 cups Dark Chocolate chips
1 tablespoon Chocolate Almond Milk
1 tablespoon Tincup Bourbon
1⁄3 cup pomegranate seeds (also called arils)
Instructions
Lay the bacon slices flat on a microwave bacon cooker (also known as a bacon wave). Use a basting brush to brush on the bourbon to each slice generously. Then flip the bacon slices over to brush the bourbon on the back side. Repeat with the maple syrup. 
Cook the bacon per the package instructions. Mine took about 4 minutes for 4 pieces. You want it to be crispy, but not burned! Let it cool for 5 minutes, then use your hands to crumble it into tiny pieces. Set it aside.
Next, melt the chocolate chips in the top of a double boiler or in a stainless steel mixing bowl set over a pot of simmering water (make sure the bottom of the bowl doesn't touch the water). Approximately 5 minutes, stirring continually. Once they are melted completely, stir in the almond milk and additional 1 tbsp of bourbon. Mix thoroughly. Then, pour the mixture onto a baking sheet lined with parchment paper. Use a spoon to flatten and level the mixture. Sprinkle the bacon crumbles and pomegranate seeds evenly over the top, pressing them down gently with your hand or the back of a spoon. Cool for 1 hour in the refrigerator, then break apart into pieces and enjoy! 
Store in an airtight container in the refrigerator.
Yields 6 Servings