Loaded Sweet Potatoes with BBQ Lentils and Spicy Slaw
Description
Loaded Sweet Potatoes with BBQ Lentils and Spicy Slaw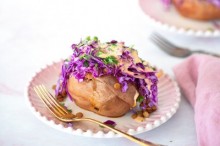 Ingredients
---FOR THE BBQ LENTILS---
1 1⁄2 cup
cooked green lentils
1⁄2 cup
your favorite BBQ sauce
4 cups
shaved red cabbage (or sliced thin)
1⁄4 cup
mayonaise (we like Veganise (to keep everything vegan!))
1⁄2 teaspoon
chipotle powder
Instructions
Preheat the oven to 375 degrees.
Put the sweet potatoes on a baking sheet.
Rub the sweet potatoes with the olive oil and season with salt. Bake for 30-35 minutes. Leave until they give a little when pressed and look caramelized.
In the meantime, put the cooked lentils in a skillet and warm them up with the bbq sauce.
Make the slaw dressing by mixing the mayonnaise with the lemon juice, the chipotle powder, and salt. Mix in the shaved red cabbage.
For serving: Make a small incision in the middle of the sweet potato, spoon 3-4 tablespoons of bbq lentils and top with the red cabbage slaw. Top with chopped cilantro.
Yields 4 Servings