Lemony Roasted Radishes with Green Herb Butter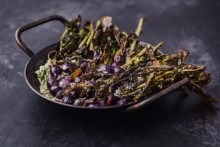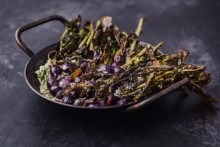 Description
Lemony Roasted Radishes with Green Herb Butter
Ingredients
2 bunches radishes, green tops left on (rinsed well and halved lengthwise)
3 tablespoons extra virgin olive oil
freshly ground black pepper
flaky sea salt (for topping)
---FOR THE HERB BUTTER----
1⁄2 cup unsalted butter (room temp)
1⁄2 cup Parsley (leaves and stems chopped)
fresh ground black pepper
Instructions
For the radishes, preheat the oven to 425 degrees F. Toss the radishes and olive oil together on a rimmed baking sheet until evenly coated. Arrange the thinly sliced lemon on the sheet and sprinkle with salt and pepper. Roast for 15minutes, until the radishes are tender, and the greens tops are crispy.
Meanwhile, for the green herb butter: place all ingredients in a food processor and blend until well combined. Season with salt and pepper to taste.
Right before serving, spread the room temperature herb butter in a shallow bowl or dish. Arrange the roasted radishes and lemon slices on top, for easy radish swiping, in the green herb butter. Sprinkle with flaky sea salt.
Yields 8 Servings