Lemon Blueberry Cornbread Muffins with Basil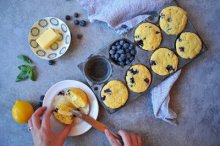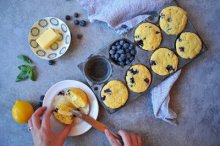 Description
lemon blueberry muffins | cornbread muffins | mother's day brunch recipes | lemon basil recipes
Ingredients
1 cup Bob's Red Mill Gluten-free Corn Flour* (or sub organic corn flour)
1 cup Bob's Red Mill GF 1:1 Baking Flour (or sub organic all-purpose flour)
1 tablespoon Baking Powder
1⁄8 teaspoon Iodized Sea Salt
1 cup organic raw cane sugar
6 tablespoons Organic Butter (at room temp is preferred)
5 3⁄10 ounces Lemon Greek Yogurt (or you can sub sour cream)
2 tablespoons Lemon juice
1⁄2 cup vanilla unsweetened cashewmilk (or sub your favorite milk)
1 cup organic fresh blueberries
1 tablespoon Bob's Red Mill GF 1:1 Baking Flour (to coat the blueberries)
1 tablespoon diced fresh basil
Notes
*corn flour is a finer grain than corn "meal" so the muffins turn out lighter and fluffier
Instructions
Preheat oven to 375 degrees.
In a large mixing bowl, combine the dry ingredients: flour, corn flour, baking powder and sea salt. Whisk to combine and then set aside. 
In a medium mixing bowl, add the cane sugar, room temp butter, and eggs. Use an electric hand mixer for approximately 2 min to combine. Then, stir in the lemon greek yogurt, lemon juice, lemon zest, cashewmilk, and eggs. 
Pour in the wet ingredients into the large mixing bowl with the flours. 
Stir until just combined. 
In a small bowl, stir the blueberries with 1 tbsp of flour to coat them. Then gently mix them into the batter along with the basil. 
Line a muffin tray with paper baking cups and fill each one 3/4s full with batter. 
Bake for 23 - 25 minutes, until tops are slightly golden. 
Enjoy!
Yields 12 Muffins