Italian Double Cheesy Flatbread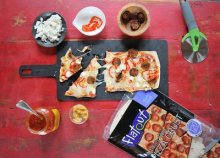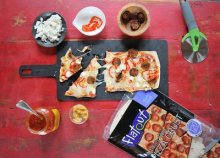 Description
vegetarian flatbread | vegetarian pizza | double cheese pizza | pizza with feta
Ingredients
3 Flatout Artisan Thin Pizza Crusts (rustic white or spicy Italian)
14 ounces Pizza Sauce (I like Classico or Muir Glen Organic)
8 ounces shredded organic mozzarella
4 ounces crumbled sheep's milk feta cheese
6 peppadew peppers (thinly sliced)
2 Field Roast vegetarian Italian sausages (or sub your favorite)
Instructions
Preheat your oven to 400 degrees. 
Slice your sausages into thin rounds, then saute them with the garlic cloves in a skillet over medium high heat for approximately 8 minutes --- flipping halfway through... until lightly browned on both sides. Remove from heat. Chop garlic cloves into pieces.
Assemble your pizzas: lay the 3 Flatout crusts flat on a large baking sheet. Spread a thin layer of pizza sauce on each one. Then sprinkle approximately 1/2 -3/4 cup of shredded mozzarella cheese on each. Top with cooked Italian sausage rounds, peppadew peppers, garlic, and the feta cheese. 
Bake for 10 minutes, until mozzarella is melted and slightly browned. 
Slice and serve.
Yields 4 Servings