Honey Ginger Pork Tenderloin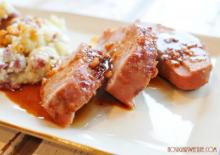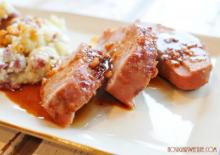 Description
Honey Ginger Pork Tenderloin // @noshandnourish
Ingredients
1⁄8 teaspoon Red Cayenne Pepper
1 tablespoon Minced Garlic
1 tablespoon Ketchup (I use "Simply Heinz")
1 tablespoon Minced Ginger (I use the squeeze tube variety)
1 teaspoon Minced Ginger ((1 Tbsp PLUS 1 tsp total))
1 tablespoon Brown Sugar (optional)
Notes
If I have guests coming over, I usually double the recipe.
Instructions
Mix all ingredients together, except for the pork.
Pour the mixture over the pork tenderloin and marinate in the fridge for at least 2 hours in a glass baking dish.
Preheat the oven to 400 degrees.
Bake for 40 - 45 minutes, checking to make sure the pork is fully cooked in the middle.
Serve with mashed potatoes (optional).
Yields 4 Servings