Honey and Soy Roasted Carrots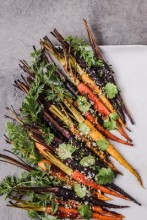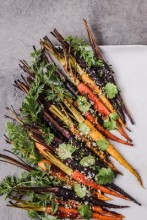 Description
Honey and Soy Roasted Carrots
Ingredients
2 bunches rainbow carrots* (scrubbed well, with an inch or two of the green tops left on)
2 tablespoons Soy Sauce (or sub tamari if you're gluten free)
1 tablespoon extra virgin olive oil
1 tablespoon cilantro leaves
additional carrot tops for garnish
2 teaspoons sesame seeds (white, black, or both)
flaky sea salt (to taste)
Ground Black Pepper (to taste)
Notes
* you can leave the carrots whole, or for larger carrots, cut in half lengthwise
Instructions
Preheat oven to 425 F degrees.
In a small bowl, whisk together soy sauce, sesame oil, olive oil, honey, rice vinegar, and the lime juice.
Spread the carrots in a single layer on a rimmed baking sheet and toss with the honey-soy mixture until they're evenly coated.
Roast until the carrots are soft and beginning to caramelize, 20-30min, exact timing will depend on the size of your carrots, turning once or twice during roasting.
Transfer carrots to a serving bowl and top with cilantro leaves, some carrot top leaves (optional), sesame seeds, flaky sea salt and freshly ground pepper.
Yields 6 Servings