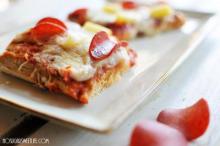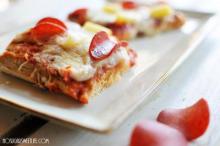 Description
Homemade Self-Rise Pizza // @noshandnourish
Ingredients
2 cups Flour (I used Bob's Redmill Unbleached White)
3⁄4 tablespoons Baking Powder
1 tablespoon Grillmates' Tomato, Garlic, Basil Marinade (dry seasoning packet)
1 tablespoon Ranch Dressing
3⁄4 Bottle of Dark Beer (I used New Belgium's 1554)
1 tablespoon Brown Sugar (or sub 1/2 Tbsp Agave Nectar)
1 can Pizza Sauce (I use the Classico brand)
1 package Mozzarella (or 6 Italian cheese mix)
Instructions
Preheat oven to 375.
Mix all crust ingredients together in a bowl (everything except sauce, cheese, & toppings). 
Use non-stick spray on a cookie sheet or pizza stone.
Once the dough is thoroughly mixed, add some flour on your hands to press the dough into the bottom of a cookie sheet. 
Prick the dough with a fork about 10 - 15 times.
Par-bake the dough for 10 minutes (meaning bake just the dough by itself for 10 minutes). 
Remove the partially baked dough from the oven and add the sauce, then the cheese, then the toppings.
Bake for another 12 - 15 minutes, until the cheese is properly melted and starting to brown slightly.
Slice up and enjoy!
Yields 12 Slices