Homemade Bourbon Maple Granola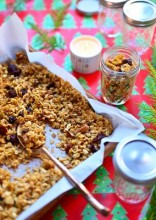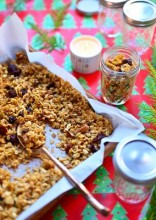 Description
Homemade Bourbon Maple Granola
Ingredients
1⁄2 cup O Organics olive oil
1⁄2 cup Bourbon Barrel Aged Maple Syrup
1⁄2 teaspoon O Organics cinnamon
3 cups O Organics old fashioned oats
1⁄2 cup Open Nature pecans (coarsely chopped)
1⁄2 cup Open Nature walnuts (coarsely chopped)
1⁄2 cup sprouted pumpkin seeds
Instructions
Heat the oven to 325 F. Line baking sheet with parchment paper.
Add oil, syrup, cinnamon, and salt to a bowl, whisk. Add oats, nuts, and pumpkin seeds. Sir well. Spread onto parchment on baking sheet, pressing flat into pan.
Bake for 20 minutes, stirring the oats at 10 minutes.
Remove from oven, add dried cherries, stir, and cool. Cool before packing into containers. Place into small glass debi lilly design™ canning jars, wrap lid with parchment paper square, twine.
Yields 6 8oz jars