Homemade BBQ Sauce for Foil Packet Dinner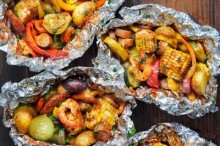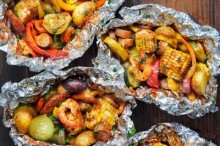 Description
Homemade BBQ Sauce for Foil Packet Dinner
Ingredients
4 pitted medjool dates (soaked and drained)
3⁄4 cups canned tomato sauce (plain)
1⁄4 cup pure orange juice (or fresh squeezed)
2 tablespoons coconut aminos (or sub soy sauce)
2 tablespoons Balsamic Vinegar
1 1⁄2 tablespoon Dijon Mustard
1⁄2 tablespoon Chili Powder
1⁄2 teaspoon onion powder
1⁄4 teaspoon smoked paprika powder
1⁄2 teaspoon Ground Black Pepper
1⁄4 teaspoon cayenne pepper (optional)
Instructions
In a high-powered blender (Blendtec or Vitamix), add all of your sauce ingredients. Pulse or blend until very smooth. (A food processor will also work).
Next, transfer your mixture from blender to a medium-sized pot and simmer for approx. 15 minutes, stirring occasionally.
Once thickened, remove from heat and allow to cool approx. 25 minutes. Then transfer to a contained with a lid.
Store sauce in refrigerator, covered, for up to 2 weeks.
Yields 8 Servings