Holiday Flatbread with Apples, Prosciutto, and Balsamic Glaze
Description
Holiday Flatbread with Apples, Prosciutto, and Balsamic Glaze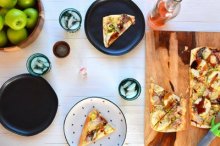 Ingredients
2
Flatout Rustic White Artisan Pizza Crusts
2 tablespoons
truffle oil
6 ounces
proscuitto (cut into thin strips)
1
Granny Smith Apples (cut into 6 thin rounds*)
4
brussels sprouts (thinly sliced / shredded)
4 ounces
havarti cheese (thinly sliced into small rectangles)
2 teaspoons
balsamic glaze (the glaze is thicker than straight balsamic vinegar)
Notes
* I like cutting the apples horizontally, "through" the seeds... so that the beautiful star pattern can be seen. Make sure to actually remove all the seeds though after cutting!
Instructions
Preheat your oven to 400 degrees. 
On a large parchment lined baking sheet, lay 2 of the rectangle pizza crusts in a single layer. Brush each with a thin layer of truffle oil. 
Lay the strips of prosciutto on each crust in a sort of zigzag pattern. 
Sprinkle on the shredded brussel sprouts evenly. 
Lay the thin apple rounds flat, typically 3 per crust is best. 
Lay 6 - 8 small pieces of havarti on each crust, evenly spaced. 
Bake for 10 minutes. 
Then remove from the oven and drizzle on the balsamic glaze. 
Slice and serve!
Yields 2 Flatbreads