Holiday Cookies with Chocolate Covered Sunflower Seeds
Description
Holiday Cookies with Chocolate Covered Sunflower Seeds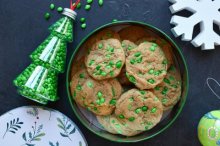 Ingredients
1⁄2 cup
Chickpeas (canned --- rinsed then drained)
1⁄3 cup
Silk Hazelnut Almondmilk creamer (or sub your favorite creamer or milk)
1⁄2 cup
Butter (or sub Earth Balance's dairy-free butter stick)
1⁄2 cup
organic cane sugar
1⁄2 cup
Bob's Red Mill coconut sugar
1 3⁄4 cup
Bob's Red Mill Organic All Purpose Flour
1 cup
chocolate covered sunflower seeds (or sub in whatever you'd like: holiday m&ms, chocolate chips, pistachios and dried cranberries, etc.)
Instructions
Preheat the oven to 350°F.
Line 2 baking sheets with parchment paper.
Combine the chickpeas and almondmilk creamer in a large measuring cup. Use an immersion blender—a food processor or blender will also work—to puree until smooth.
Partially melt the butter in the microwave for 30 seconds.
In a large mixing bowl, combine the chickpea mixture, butter, sugars, and egg yolks. Use a hand mixer for approximately 2 minutes to thoroughly combine. 
In a separate bowl, whisk together the flax seed, baking soda, and flour. Then, add to the wet ingredients and stir to combine.
Fold in the chocolate covered sunflower seeds. Use a spoon to form 2-inch balls. You should get about 24 balls. Place 6 to 8 on each prepared baking sheet.
Bake for 12 minutes, rotating the pans halfway through, until lightly golden brown and set in the center. Let cool on the baking sheets before transferring to a wire rack to cool completely. Repeat with the remaining dough balls.
Yields 24 Cookies