Description
Holiday Bread Pudding -- made with cranberry bagels! #dairyfree #gf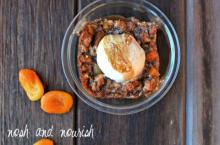 Ingredients
3 tablespoons
Ground Flax
4 cups
Cranberry Bagels, torn (I used 2 Udi's GF Mighty Bagels)
2 cups
Vanilla Almond Milk
3 tablespoons
Vegan Butter (or sub regular butter)
1⁄4 teaspoon
Ground Cloves
1⁄2 cup
Dried Apricots (diced)
Notes
For the homemade caramel sauce, mix 1 Tbsp coconut sugar, with 1 tsp almond milk. Let dissolve for a few minutes, then pour over the ice cream and bread pudding!
Instructions
Combine flax and warm water, and refrigerate for at least 15 minutes.
Preheat oven to 350 degrees.
Tear bagels into small pieces, approx the size of pennies.
Over the stovetop, combine almond milk and butter. Warm until butter is melted. Do not let it boil or burn. 
Combine all ingredients and pour into a baking dish. 
Cook for one hour.
Serve warm with almond milk ice cream, or regular.
Yields 12 Servings