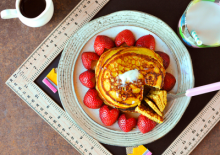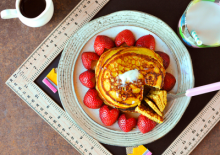 Description
Hello Sunshine Pancakes // via Nosh and Nourish
Ingredients
1 small golden beet (roasted*)
3⁄4 cups Silk Vanilla Unsweetened Cashewmilk
1 cup Pancake Mix (My favorite is Bob's Red Mill)
1 tablespoon Coconut Oil (or dairy-free butter)
Notes
*TO ROAST THE BEET: Preheat the toaster oven to 425 degrees (or a regular sized oven will work too!). Peel a small golden beet and place it on top of a square of aluminum foil. Put 1 tsp of coconut oil on top of the beet, then wrap up the sides of the foil to cover the beet. Roast for 25 minutes. Then, chop it into smaller pieces before adding it to the blender.
Instructions
In a high speed blender (I love my Blendtec!), combine the roasted beet pieces, the cashewmilk, and the honey. Puree until smooth. 
Pour the puree into a large mixing bowl. Then stir in the eggs and flax. 
In a separate small bowl, combine the pancake mix and baking powder. 
Then, stir the dry mixture into the large mixing bowl of wet ingredients. Stir until just combined. 
In a large pan, over medium-low heat, melt the coconut oil. Then, pour the batter into small 3 to 4 inch circles. When pancakes start bubbling a bit and the bottom is slightly browned, flip them over. Continue cooking for a minute or two on the other side.
Serve warm with syrup.
Yields 9 Pancakes