Hearty Butternut Walnut Loaf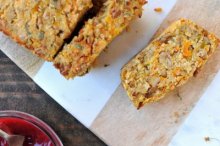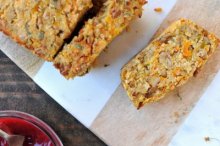 Description
Hearty Butternut Walnut Loaf // via Nosh and Nourish
Ingredients
2 cups Walnuts (coarsely chopped)
1 1⁄2 cup vegetable broth (my favorite is: Imagine's NO-CHICKEN broth)
1⁄2 tablespoon Minced Garlic
2 tablespoons thinly sliced leek
1 cup grated butternut squash (peeled and then grated)
1 cup gluten-free breadcrumbs (or sub regular if you're not trying to avoid gluten)
1⁄2 tablespoon fresh thyme (diced)
1⁄2 tablespoon Fresh Sage (diced, approx 5 leaves)
Notes
*2 "Flax Eggs" = 2 Tbsp ground flax + 6 Tbsp warm water. Refrigerate for 15 minutes.
Instructions
Soak your walnuts in vegetable broth for one hour.
Make your flax eggs, refrigerate for 15 minutes. 
Preheat the oven to 350 degrees.
Drain the broth from the walnuts and then transfer the walnuts to a large mixing bowl. 
In a small saute pan, saute the leeks and garlic for approximately 5 minutes until lightly browned. Then, add them to the mixing bowl with the walnuts. 
Add in all remaining ingredients... including the flax eggs. 
Combine and thoroughly mix everything with your hands or a large spoon. 
Use non-stick spray or coconut oili to grease a loaf pan. Press in the walnut mixture evenly. 
Bake for 40 minutes. 
Cook on broil for 3 - 5 additional minutes so that the top is lightly browned. Watch it carefully to make sure it doesn't burn!
Serve with cranberry relish.
Yields 8 Servings