Harvest Couscous with Honey Lemon Chicken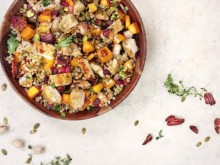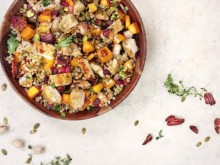 Description
Harvest Couscous with Honey Lemon Chicken
Ingredients
2 cups Cubed Butternut Squash
1⁄2 cup fresh squeezed lemon juice (~2 lemons)
1 teaspoon fresh thyme leaves (I used lemon thyme)
1⁄2 cup Dried Cranberries
1 1⁄2 tablespoon pure honey
1⁄4 cup Olive Oil (plus more as needed)
1 1⁄2 pound boneless, skinless chicken breast tenders (trimmed)
1⁄2 cup Flour (or almondmeal)
Instructions
Pre-heat oven to 400 degrees.
Prep your ingredients: Cube butternut squash (or buy it pre-cubed and ready to go), grate zest from lemon and squeeze juice. Set aside. Coarsely chop parsley, and pistachios. Dice onion and garlic. Then remove thyme leaves from sprigs. Set all prepped ingredients aside.
Place squash on a baking sheet. Then, in a small bowl whisk together the lemon juice, honey and only 1/4 cup olive oil. Pour a small amount of the honey/lemon mixture over the squash, tossing to coat. Sprinkle with salt and pepper as desired. Roast squash in oven for approximately 30 minutes, or until cooked through and tender.
While squash is roasting, bring 1 cup water to a boil in a small saucepan. Add couscous, lemon zest, onion, garlic and cranberries. Mix together, then remove from heat and cover. Let stand approximately 5 minutes.
While your loaded couscous is cooking, cook up your chicken: Start by dividing the remaining honey/lemon mixture in half. Pour half in a shallow dish. Set the other half aside. Then place flour or almond meal in a second shallow dish. Dip chicken tenders into honey/lemon mixture, then into the flour/almond meal mixture until well coated. Repeat until all tenders are coated. Discard any remaining honey/lemon mixture and flour.
Next, heat a few drizzles of olive oil in a pan over medium-high heat. Place chicken tenders into pan and cook, flipping as necessary until cooked through (you will have to do this in batches). Once done set chicken aside and cover to keep warm.
Finish couscous: When couscous is done, add squash, parsley, pistachios, thyme and pepitas. Toss to combine.
To serve, slice/chop chicken and divide evenly with couscous between 4-5 bowls/plates. Top with pecans, and use remaining honey/lemon mixture as a vinaigrette as desired, to finish off your dish. Season with salt and pepper to taste.
Yields 4 Servings