Grilled Tofu Tacos with Gochujang Glaze (Vegan- and Gluten-Free-Optional)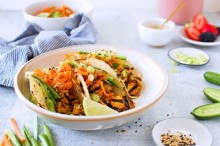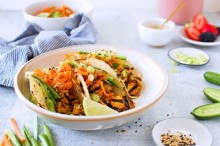 Description
Grilled Tofu Tacos with Gochujang Glaze (Vegan- and Gluten-Free-Optional) -- smoky grilled tofu tossed in a sweet and spicy sauce and loaded into tacos with refreshing pickles carrots, cucumbers, scallions and sesame seeds.
Ingredients
14 ounces package of firm tofu (drained and sliced crosswise into about 8 rectangular slabs)
2 Medium Carrots (finely julienned or spiral cut)
2 tablespoons rice vinegar
1 tablespoon avocado oil (plus more for grilling, or other light cooking oil)
1 tablespoon toasted sesame oil
1 tablespoon dark soy sauce
1 teaspoon gochujang paste* (or more to taste)
2 persian cucumbers (or 1/3 an English cucumber, julienned)
1⁄2 cup kimchi (lightly drained and finely chopped)
1 scallion (green + white parts finely chopped)
6 taco-sized corn tortillas (we love the soft, handmade variety)
Notes
* this is the Gochujang paste I like
● We heat our tortillas in a dry cast-iron skillet, preheated over a high flame, for 30 seconds a side, or until browned in spots.
● As written, these tacos pack a medium heat. For kiddos, I reserve a few pieces of the plain grilled tofu and drizzle it lightly with the gochujang sauce (or you could season it simply with a little soy sauce and omit the sauce completely for littles). We also gave Lana the choice of a taco or a bowl, so she chose to have hers over a little leftover sushi rice in lieu of a tortilla.
● For a salad version of this meal: skip the tortillas and toss together all ingredients with 1 head of chopped romaine, 1 julienned bell pepper, and a quick vinaigrette of 3 parts avocado oil, 1 part lime juice, a little sugar and a generous splash of fish sauce. Top with lots of fresh mint.
● Finally, to make these vegan: sub maple syrup or brown-rice syrup for the honey. To make these gluten-free, choose gluten-free tamari and certified GF corn tortillas.
Instructions
Arrange tofu slices on a paper towel lined plate. Cover with another paper towel and microwave for 90 seconds. Remove from microwave and dab slices dry. (Note: this step is optional, but it does help encourage some of the moisture out of the tofu before it hits the grill.)
Preheat a grill or indoor grill pan to medium-high heat.
While grill heats, combine carrots, vinegar, sugar and salt in a medium bowl. Stir to combine and set aside until ready to assemble tacos.
Lightly drizzle tofu slices with a little oil and place on the hot grill pan. Grill, undisturbed, for 3-4 mins a side, or until pieces release from the grill easily without sticking or tearing. (I find a thin spatula or a fish spatula works well for this; tongs are too indelicate.)
While tofu cooks, warm tortillas as desired (see note). In a small bowl, stir together 1 T avocado oil, toasted sesame oil, dark soy sauce, honey and gochujang paste.
To assemble tacos, cut tofu bite-sized pieces. Toss with gochujang sauce. Load tortillas with tofu, "pickled" carrots, cucumbers, kimchi, scallions and sesame seeds. Serve with a squeeze of lime. Enjoy!
Yields 4 Servings