Grilled Shrimp and Sausage Foil Packets with Homemade BBQ Sauce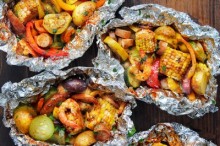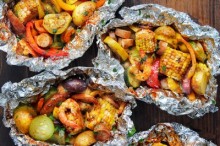 Description
Grilled Shrimp + Sausage Foil Packets
Ingredients
3 handfuls of small/baby potatoes (I used tri-color for more color)
3 zucchini squash (Mix of green/yellow)
3 bell peppers (Mix of red and orange)
3 bratwurst or sausage of choice (we love chicken sausage around here!)
1⁄2 pound medium-sized shrimp (peeled and deveined)
sprinkle of salt and pepper (to taste)
1 handful of fresh parsley (chopped)
additional seasonings, if desired (we like Montreal Steak Seasoning)
1 cup Homemade BBQ Sauce (see recipe below)
Notes
* You will also need foil, a sauce mop or brush, an oven mitt/glove, and tongs to remove packets from grill.
Instructions
Pre-heat your grill to medium-high heat.
Prep all your produce: cut potatoes in half, slice zucchinis into rounds, cut peppers into thin sticks, dice onion, cut ears of corn into small 1- 1 and 1/2 inch rounds, cut lemon into wedges or slices. Set everything aside, together – use a large tray or bowl to combine it all.
Next, slice your bratwurst or sausage into 1 cm thick rounds. Set aside.
In a mixing bowl place your shrimp and then squeeze with juice from one of your lemons. Toss to coat. Let sit for a few minutes.
Going back to your produce, drizzle a little olive oil over your produce and toss to coat. Sprinkle with a little salt and pepper, and additional seasonings as desired. Also sprinkle with some of your chopped parsley, but be sure to save some for garnish.
Next, place two pieces of foil on top of each other. Place a good amount of your produce mixture into the center of the foil. Then add in some bratwurst or sausage and a few pieces of shrimp. Fold up the first piece of foil and then the second piece after, to form a nice seal. Set aside.
Continue wrapping up your packets until you have used all your ingredients (minus your sauce). This recipe yields approximately 4- 6 foil packet dinners, but it is all dependent on how full you fill your foil.
Place packets on your grill and grill them, covered for approximately 15 minutes.
After approx. 15 minutes has passed, open up grill, and carefully (using a gloved hand or tongs) open up packets. Brush a generous amount of the BBQ sauce on the food, ensuring a good even coat. I brush on a little extra on the tops too, prior to re-sealing.
Re-seal your packets and grill an additional 10 minutes, approximately.
After time has passed, check food and if done to your liking, remove from grill. Sprinkle with additional salt, pepper, seasonings as desired and top with remaining parsley.
Enjoy right out of the foil (with no dishes to clean up)!
Yields 6 Servings