Grilled Pineapple Caprese Skewers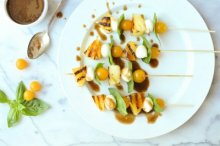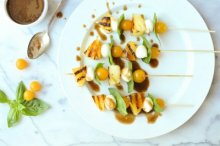 Description
Grilled Pineapple Caprese Skewers with Coconut Macadamia Balsamic Dipping Sauce --- the perfect summer party appetizer!
Ingredients
16 golden snacking tomatoes (I used the NatureSweet brand, called Sunbursts)
8 ounces fresh mozzarella balls
1⁄2 a large pineapple (cut into thick rings)
1⁄4 cup Ellyndale's Macadamia Nut Oil (for the sauce)
2 tablespoons coconut milk (for the sauce)
1 tablespoon aged balsamic vinegar (for the sauce)
1⁄2 tablespoon Dark Amber Maple Syrup (for the sauce)
1 pinch of sea salt (for the sauce)
Instructions
Cut a fresh pineapple into thick 1 inch slices. Cut off the peel and core. 
Grill on high for approximately 4 minutes per side. Then, remove from grill and cut into 1 inch pieces.
Assemble your skewers: 1 golden tomato, 1 large fresh basil leaf, 1 small ball of fresh mozzarella. If using long skewers, repeat one more time so that there's two of everything on the skewer. Or if you're using shorter party toothpicks, you can just use one of everything. Totally up to you!
Combine the sauce ingredients in a small bowl and whisk together until combined. 
Serve and enjoy!
Yields 8 Skewers